TCL cooperates with the South American Football Federation in the new season of Copa America 2019
The South American football championship has just kicked off on June 14 (local time), marking the latest collaboration of TCL Electronics Group in the category of high-end sports financing worldwide, aims to strengthen relationships with the global sports community.
---
Last February in Sao Paulo, Brasil – TCL, the world's second-largest television group and leading consumer electronics company, announced to become a regional partner of CONMEBOL Copa América Brasil 2019, one of the prizes. The world's most influential and oldest international football championship, kicked off from June 14 until July 7 in five Brazilian cities.
Mr. Carlos Li, General Director of Distribution Center, TCL Overseas Business Group (front right) and Juan Emilio Roa, Commercial Director from CONMEBOL (front left) attended Regional cooperation signing ceremony between TCL and CONMEBOL Copa América Brasil 2019 in São Paulo on February 21, 2019.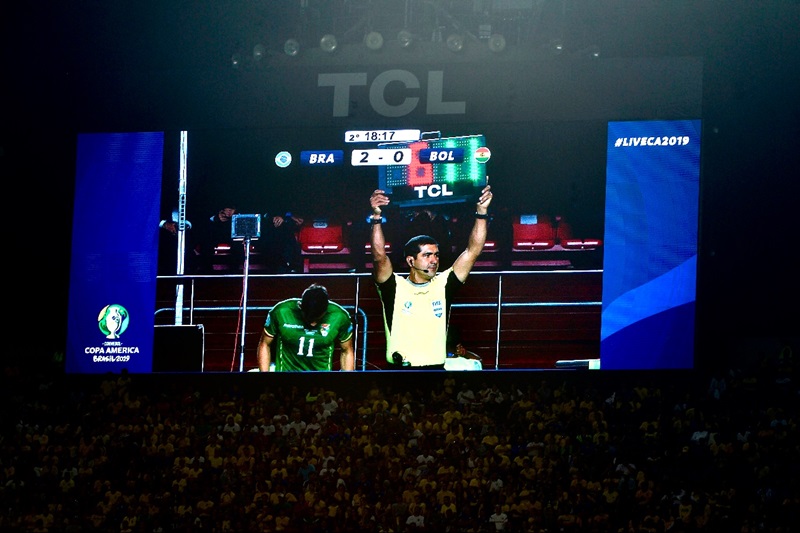 TCL's collaboration with the 46th Copa América, with the participation of South American football teams including Argentina, Bolivia, Brazil, Colombia, Chile, Ecuador, Paraguay, Peru, Uruguay, Venezuela and two visiting teams from Asia, Japan and Qatar take effect from February 21, 2019 to December 31, 2019. This is TCL's latest collaboration in a comprehensive, well-established sponsorship series. demonstrating a passion for connecting with developing sports communities and fulfilling their commitment to global consumers.
Neymar Jr. – Global TCL brand ambassador was unable to attend this year's tournament due to a severe ankle injury. Despite this, the Brazilian team is still one of the brightest candidates for the 2019 Copa America championship. In the opening match on June 14, Brazil won Bolivia 3-0 in favor of the hosts team.
As the official partner of the tournament, TCL will also give brand awareness through pitch advertising, arbitration uniforms and VAR equipment. In addition, TCL will exclusively provide top-notch TV products in all match venues, allowing football fans to enjoy a realistic, high-resolution viewing experience.
TCL continues to invest in sports sponsorship activities, following the cooperation with global brand ambassador Neymar Jr. from early 2018 and cooperated with the International Basketball Federation (FIBA) in June 2018. The company's other global sports partners include the Brazilian Football Federation (Brazil), Football Club. Rosario center (Argentina), San Jose Earthquakes football team, Minnesota Timberwolves and Lynx of the NBA, Philippines Basketball Association (Philippines) with the goal of boosting the brand closer to the international sports community.
Statistics from January to May 2019, TCL sales of LCD TVs have increased to 13.41 million products; 24.2% increase over the previous year, sales of Smart TV and 4K TVs from January to May increased significantly to 10.79 million and 5.07 million products; 36.1% and 62.1% increase over the same period last year. TCL continues to provide users with products and services related to intelligent life, aiming to become a leading smart technology company.